I cant say enough great things about the place I got my wedding dress from. Julius Bridal is run by Julius and his wife and they were sooo nice to work with. I initially found out about them from my BF, Jackie. She had a friend who ordered her wedding dress online from them. When I went on the website, I noticed they had tons of dresses that were really reasonably priced but I had already put a deposit down on a dress I "thought" I liked alot. Once I looked further on the site, I realized they had a physical location in Long Island, NY. They are located inside of a full service bridal center and their showroom is beautiful! There was one dress I saw online that I was particularly in love with so that was the first one I tried on... and there was no need to try on anything else after that! I LOVED LOVED LOVED it!
And that is definitely the feeling a bride should have when choosing a gown. The first dress I put a deposit on... I liked but definitely didnt really love it. Sooo needless to say, I was so happy that I found my dream dress!
At the time I purchased it, it was only $799 !!!!!!!!!
Not to mention, the price even included alterations!
Here is a pic of the front and back of my dress from the website.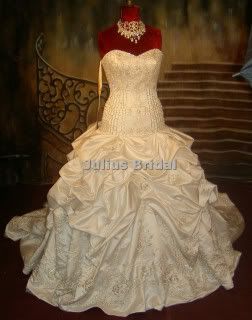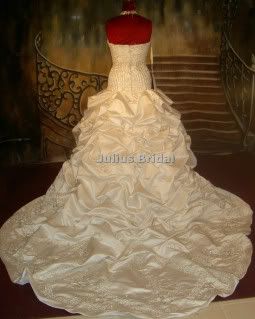 FYI: This dress is now $1399 (so I guess it went up shortly after I purchased mine) Julius did tell me this is a very popular dress.
Also, if you want to design your own dress, you can send them the sketches and they will make it for you! I would definitely recommend Julius Bridal if you are looking for a wedding gown. Im telling you, they are super great to work with. And dont be thrown off by the website. Its pretty basic, nothing over the top. But they have a large variety and very reasonable prices.
If you are in the NY area, you can check them out at:
Elegant Affairs & Bridal Center
Address: 221 Atlantic Avenue
Oceanside, NY 11572
Phone: 516-208-7620
(ask for Julius Bridal)
Monday – Tuesday – Wednesday – Fri. 11:00 A.M. till 8:00 P.M.
Thursday and Saturday -- 12:00 P.M. till 9:00 P.M.
Sunday 12:00 P.M till 6:00 P.M.
info@juliusbridal.com
If you are not in the NY area, check out the website ww.juliusbridal.com
I still haven't gotten our professional pictures back yet, but here are a few pics of me wearing the actual dress! I truly loved it and got sooooo many compliments on it (even from guys) LOL