As you know, Ive been doing alot of home decor projects. The past few days, we have been working on painting our bedroom. It took awhile to finalize the color scheme but finally we decided to go with different shades of grey. Grey is a trending color for home decor these days. It may sound a little boring but done correctly, it can really look nice! Originally, I wanted something a little bolder but decided to go with a cleaner look. Anywho, I decided that I wanted to do some accents on the walls so I decided to do vertical and horizontal stripes.
Stripes are very popular in home decor and pretty simple to do. There are tons of styles and creative ways to do them. You can use anywhere from one color to muliple colors but it does take a little time to do.
To paint stripes on your walls, you first have to decide if you want to do the whole room or just an accent wall. Next, figure out what pattern you want your stripes to be. Do you want equal sized stripes? Different sized stripes? Once you determine those things, its time to gather your supplies. Of course you need paint, a ruler or tape measure, painters tape, paint brushes, and water based polyurethane (optional depending on the finish you are going for).
The most important thing with painting stripes is making sure your measurements are good so you can tape off straight lines.
Check out some of vertical stripes I did in our bedroom. Im actually gonna add a little more later on but here is what we have right now:
Blank Wall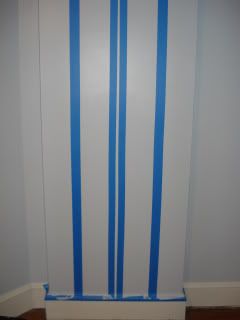 All done (for now..lol)
Here is a pic of another wall I painted horizontal stripes on: