Soooo Im pretty sure every little girl loves makeup (well maybe not every one of them) but I know I loved all things girly as a child! From the time we were old enough to hold a doll, most of us were doing its hair and trying to put makeup on it! So having a fascination with makeup just seems natural for most women!
The things that can be done with makeup is absolutely amazing to me! Most of us dont walk around with a full face on everyday, but when its time to get painted...we are all for it!!
Im no pro with makeup but I know the basics..... I thought about taking a class one day .... but I figured I'll leave makeup artistry to those who are truly passionate about it! I love makeup but its not my passion!
Another thing I love are beauty shots...and I came across some I wanted to share. Makeup should enhance our beauty not take away from it and I think these pics all show that! Check them out...what do you think??
Makeup done by
http://www.aboutfacebeauti.com/
Richmond, VA
Makeup done by
http://www.aboutfacebeauti.com/
Richmond, VA
Makeup done by Sam Fine
http://www.samfine.com/
Makeup done by Sam Fine
http://www.samfine.com/
And while we are on the subject of makeup and skin care, I thought I'd share some of the tips Ive picked up over the years.
1) Sunscreen is a must! Dont be fooled by the whole "black dont crack" and "dark skin doesnt need any protection" .... because we do!! So my dermatologist recommends using a moisturizer -- at least SPF 30. And dont forget your neck!
2) Drinking lots of water truly does hydrate your skin. If you've ever gone thru periods where you drink more water than other beverages, you should have definitely noticed the difference in your skin. And if you paired that with some healthy eating... the difference is truly amazing!! You get a natural glow! Because at the end of the day, no matter how many topical creams we put on our outside skin, its what we put inside our bodies that ends up shining thru!
3) If you are around my age bracket, then eye creams are a must too! Actually its prob never too early to start using that. Getting proper sleep too (something I dont always get) really helps under your eyes and your skin overall!
4) Having a good mild skin cleanser is a priority too. Alot of dermatologist recommend Cetaphil. Ive been using it for years. It works well with most skin types too.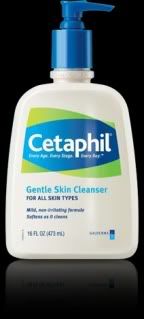 5) Dr Brian and Susan Evans (the African American married couple on Dr. 90210) recommend trying licorice extract to lighen dark spots and brighten under eye darkness. Ive never tried that but I have had a chemical peel before. Whats funny is that everytime I hear that term, I automatically think about Samantha's face on that one episode of Sex and the City!! LOL
But a chemical peel is good to get if you want to even out your skin tone/complexion... if you have alot of blotchiness, it can really help. I only went one time.... I couldnt swing the $200 price tag back to back. They recommend 6 to 8 peels for optimal results! Soooo if you have an extra $1000 laying around for skincare, definitely check out this procedure! Your face will literally feel like the bottom of a baby's behind! :)
http://www.imagedermatology.com/
- my dermatologist
6) Last tip... Vitamins Vitamins Vitamins. Now there are definitely alot of debates about whether vitamins really work or not...but in my experience they do! My BF Jackie got me hooked on them...because I too was a non believer at one time. But between her and I and a few of my other friends, we have tried a few brands of Hair, Skin, and Nail vitamins and by far we have chosen Solgar to be the best. They are sold at most vitamin shops but not all. I get mine from The Vitamin Shoppe. I pair it with a One A Day Multivitamin and I really do notice a difference. Give it a try!