Nothing makes your eyes pop more than accentuating them with lashes!!! And what bride do you know who doesn't want to pop on her wedding day!? Alot of brides today are investing in lash extensions instead of gluing the strips on or applying individuals. However, the cost of this process is a long way from the 3 bucks you spend on a set of strip lashes. There are tons of places you can get this done. I found Xtreme Lashes online (
http://www.xtremelashes.com/
). If you're interested, they have a directory of the salons across the country who do them. I would love to get them done for my wedding.... but the cost is a bit much for me so who knows....but either way, I'll definitely have lashes on that day!!
Here's the breakdown:
COST:
$250 - $600 (full set) depending on how many are applied, the skill level of lash stylist, & the part of country you live in
APPLICATION:
Typically they take 90 to 150 minutes to apply, one lash at a time. Touch ups are needed every 2 to 4 weeks and touchup run about $75 to $150
HOW LONG DO THEY LAST?
: They can last about 2 month or more
WHAT ARE THEY MADE OF?:
Made from synthetic polyester since it responds better to wear and tear than other materials
REMOVAL
: They should to be professionally taken off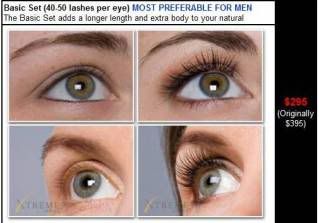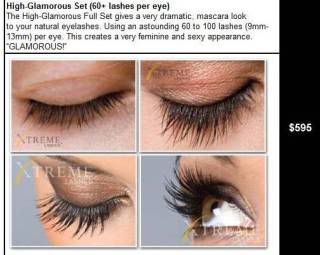 Now if you want to just apply individual lashes yourself, that's alot cheaper. Thats if you have a steady enough hand to do that. Unfortunately, I dont :(