Initially I didn't plan to use a monogram letter for the cake topper but changed my mind (as brides often do...lol) and decided to go with it!
After searching all over the web for a reasonably prices monogram cake topper with rhinestones, I came up on a site,
www.weddingcuts.com
. They have pretty much any font you can think of and lots of options. I wasn't sure which height letter to go with but they had a chart that helps you determine the best size.
You can buy a letter with or without rhinestones. But the letter with rhinestones was over $100!! And you know I wasnt about to pay that for something I can do myself! :) Sooo, I ordered the plain letter in brushed silver (5 inches tall) which came up to around $40 or so. Then I went and bought some rhinestones (two different sizes) and tacky glue and bedazzled it out myself! Check it out:
JUST STARTING....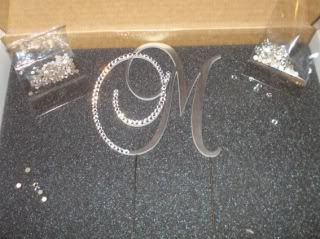 HALF WAY THERE....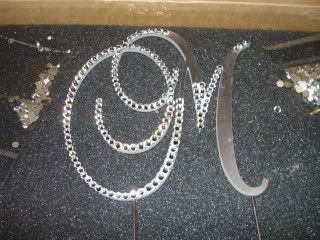 ALL DONE!!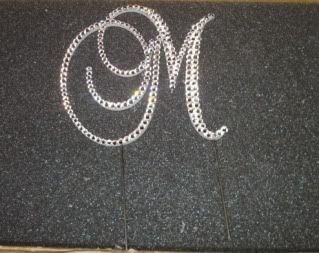 This is a very simple project that anyone can do! Why spend over $100 on something you can tackle yourself? Buttt just know, it takes awhile to do. I watched prob 3 one hour longs shows while doing it! lol