With so many different wedding program styles out there, it took me awhile to finally figure out which one I would go for. I didnt want anything too simple but I also recognized if I went for something too complicated...it would take alot of time especially trying to do over 200 of them.
Initially, I wanted to do a layered program. I created a mockup and everything...see below.
But, I ended up changing my mind because I thought it would take too much time to put them all together.
Ive always liked programs folded the long way so I decided to go with that style instead. I ordered black linen cardstock from www.paperandmore.com. Great site for all kinds of paper. If you are planning to use black cardstock for the outside of your programs, linen cardstock is great! Its a very rich color unlike some of the cheaper black cardstock out there. But it runs about $18 or so for a pack 100 sheets.
So to create my programs, the first thing I did was create the labels that went on the outside. I used Powerpoint and printed them up on sticker paper.
Next, I cut all of them out (220 to be exact). Thank God my sister cut out most of them for me! Thanks Yanna :) After cutting the labels, I started folding the cardstock and placed labels on outside.
Then the hubby created the inside of program using Microsoft Publisher then converted it over to a PDF file. This was a huge help because I was swamped by this time so it was so sweet of him to do this part! Then we printed them out ... front side and back.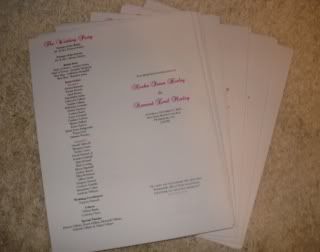 Next we folded everything up and inserted the inside into the linen cardstock.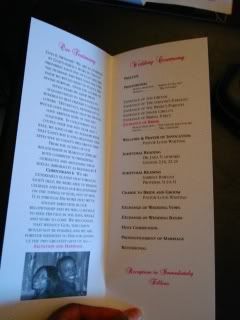 Now we used the hole puncher to poke two holes in the program. (Beware, it was a little hard poking holes through the cardstock. Lets just say it gives your hand a really good workout! lol) Once holes are in, we tied ribbon thru it and made a bow.
Lastly, get a pretty basket and put all your finished programs in it! Yippie.. all done! :)