One popular thing alot of brides are doing these days is wearing colored shoes! My official wedding colors were black & white with hints of hot pink. So I decided to wear pink shoes with my dress to add some pop!
But finding a pink shoe was alot harder than I imagined it would be. Lets just say my wedding shoe hunt was quite a long process. I found a pink pair of Stuart Weitzman shoes that would have been perfect but they were from last season so they weren't available anymore. Alot of the designer shoes I saw I wasn't really feeling or they werent dyable. So I finally started looking up dyable shoes and lets just say there are a limited amount of those I thought were cute. So I finally decided on a shoe by Coloriffics called Desire. See below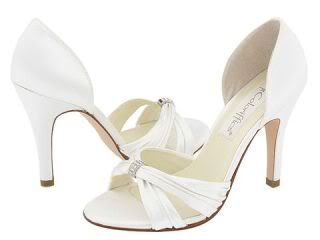 Remember, when ordering shoes you want to be dyed, get white. Dont make the mistake I made by getting ivory because they cant dye them if they aren't white.
But I ordered them from a GREAT shoe website - www.endless.com
They have FREE Overnight shipping and a no hassle return policy! I actually ordered 3 pair of shoes I was contemplating before deciding on the Coloriffics shoe. They came in the next day, I tried them on, then immediately sent them all back once I determined none of them worked for me. They do free return shipping too! Cant beat that!
Once I was ready to get the shoe dyed, I found a local spot to dye them. They charged $38. Im not sure if that was too much or not but I didnt have time to look around.
Here is how they turned out: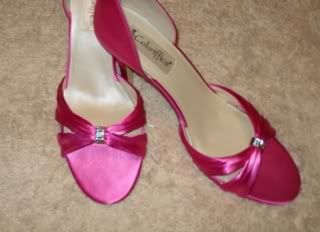 Another cute little thing I saw while browsing the internet during my wedding planning were stickers that brides put on the bottom of their shoes that say "I do" but I forgot to order some, so I went to my fav store Micheals and got some cute letter stickers and put my own on the bottom. They were only $3.99 for a pack and they actually turned out much cuter to me than the stickers I had seen online. Check it out: