So instead of spending $150 on a custom hand painted aisle runner, of course I decided to do it myself! I found a few tutorials online and decided to try it out! I think it came out pretty good... I made a few small mistakes but nothing major. If you have a steady hand and some patience, you can definitely tackle this project!
Here's the shakedown:
Supplies
: Aisle Runner, Tape, Wax Paper, Acrylic Paint, Paint brush, Pencil, Workspace (i.e. dining room table or hard wood floor)
Cost:
About $25 -$30
Aisle Runner - $15 (I used a 50% off coupon and purchased from Michaels)
Paint brushes - $2 to $3 for a pack
Wax paper - $1 to $2
Acrylic Paint - $1
Kinkos blow up - $4.50
Time:
About 4- 7 hours depending on how fast you trace and paint.
A few of the supplies....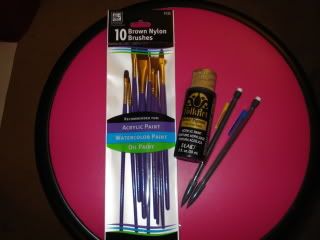 Pic of my original design & blown up version... (Create your design on Powerpoint, Word, or Photoshop, print it, & take it to Kinko's and get it blown up to 400% )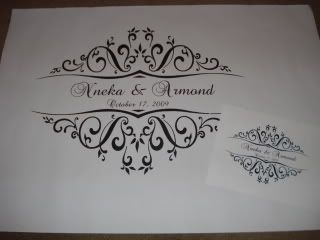 Tape the blow up down to table ....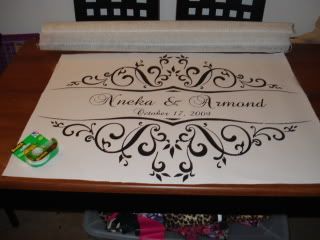 Lay runner over the blown up design and tape down to table....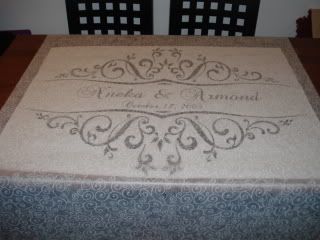 Start tracing your design with a pencil....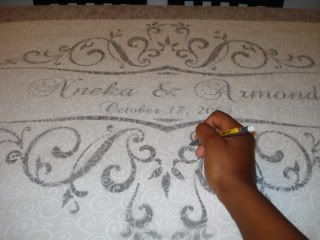 Once finished tracing, remove blown up design and tape wax paper underneath runner (because paint will seap thru) then start painting your traced design.....
Half done....
Almost done....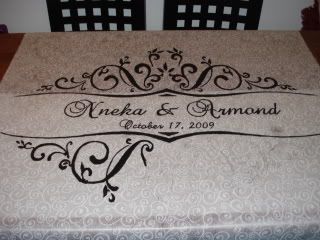 Yayyy!! Finished!! I think it came out pretty good!! What do you think?