Black and white Damask is a very popular print these days especially for weddings. It's classic and pretty much any color will look good as an accent with it. I think it has a very regal vibe and Ive always loved it! If the hubby would let me, I would probably deck out our bedroom in the print but I believe as he put it, "I dont want to see another damask thing after the wedding!" LOL
One of the other reasons I went with it as the theme for our wedding is because you see it everywhere which means it's easy to find items to use as decorations! Although, there are different variations of the print. So if you are using damask as your theme, you have to pick which one you want to go with. The version I went with is called
Black Dandy Damask by Michael Miller
. See below: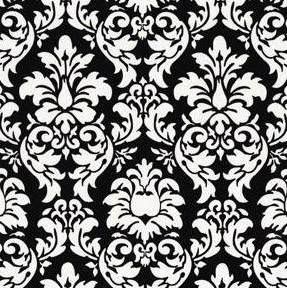 (I bought my fabric from www.craftersvision.com - only $7.20 a yard)
Initially, my original table decor involved having a damask runner on each table. I knew I wouldn't feel like making all of them though. But finding them online was like trying to find a needle in a haystack. I found one girl on Etsy.com who seems to have the Damask runner market on lock...but she never got back to me. Then I ended up changing my table decor so now all I needed was 2 or 3 runners so of course I decided to just make them myself.
Dont worry if you dont know how to sew...this is a NO-SEW project! I cheated on this project and used the next best thing to a sewing machine....STITCH WITCHERY!! Basically, it a fusible tape used on clothing. Alot of people use it to fix hems on pants and stuff. Its the best thing since sliced bread for simple projects and its only about $2 or $3. They sell it at Walmart, Jo-Anns Fabric, or any other craft/fabric store.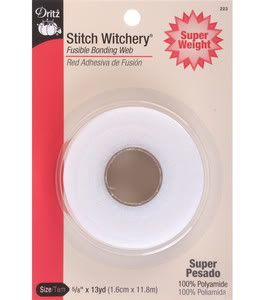 What you need for this project:
Fabric
Iron
Ironing board
Stitch Witchery
Scissors
1. Cut the fabric to your desired length. I did mine for 6 ft tables.
2. Fold fabric in half, making sure to fold over one sides edge. See pic below.
3. Use iron to press everything down. It should now look like this:
4. Next take your STITCH WITCHERY tape out and peel off a long piece. Lift up one side of runner and place that in between the edges of fabric, then iron down. The iron will fuse the two pieces together.
5. Almost done. Now its time to create the ends of your runner. You want to make sure they are in a nice point. Just fold fabric over to create point. Once you do that and it looks good... use your STITCH WITCHERY to fuse it down. Follow steps on both sides. See pics below.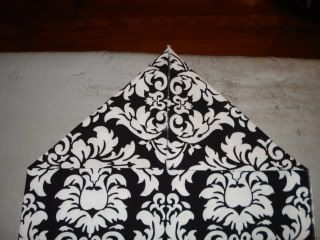 ALL DONE! How easy and quick was that?!
I dont have a pic of the actual runner alone but we used the runners I made on our sweetheart table and candy buffet table. Check out the pics: