One of the most important steps in wedding planning is finding a venue. Needless to say, this is not a fun process at all. Depending on where you live, it may be harder for you than others. Major metropolitan areas usually have alot of venues but they may be booked far out in advance.
I contacted about 7 or 8 places and ended up going with the new Holiday Inn in Colonial Heights, Va. When I went to the Holiday Inn to check it out initially, I didn't know what to expect. I think I associated Holiday Inn to the old school, run down Holiday Inns I remember seeing around years ago. But let me tell you, the Holiday Inn has really stepped their game up! I'm not sure if this is the case for all of them but this one really surprised me. It was very nice and I loved the decor! It was especially nice to do it at this particular hotel too because the area where the ballroom is located is like a separate wing of the hotel. So hotel guests don't have to walk through your event to get to their rooms.
I worked with the event coordinator there, Vibha, who did a great job helping me get everything together! When we went to do the tasting, the chef came out and introduced himself and offered suggestions on what we should go with for our food options. And the food was great! During the weekend of the wedding, the general manager helped out alot with setting up the reception and was a pleasure to work with as well. The whole staff was friendly from the front desk clerks to the servers and bartenders at reception! We are extremely glad we chose to have our reception there and would definitely recommend it to anyone looking for a reception/event venue. We invited about 220 people so it was a little tight in the ballroom with the amount of tables we needed but we made it work.
Check out some of the pics of the hotel in general. They probably don't give the hotel its full justice but you get a general idea:
Wing where ballroom is located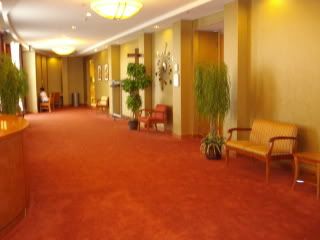 If you have a bar, this is the area where they set it up
Lobby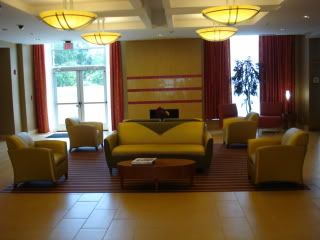 Cafe
Hallway