With so many options and creative ways to do cakes out here these days, its hard to choose what to go with! Not to mention, depending on who you get to make your cake, it could really break the budget. Most bakeries charge by the slice and that can range anywhere from $2.50 per slice up to $10.00 per slice (or more) depending on the detail involved in your cake design. I didnt want to spend a huge amount of money on a wedding cake. One way I cut costs on this was by finding a baker that charges by the tier instead of by the slice. That saved me alot especially since we had over 200 people at the wedding. My cake only ended up costing a little over $300 which is a STEAL for a wedding cake (and it served up to 250 people). A friend of mine (shout out to Candice H) recommended the lady I ended up using. Remember, recommendations from friends and/or former brides will really help out alot when planning.
Fondant is used for alot of wedding cakes. Its very pretty and certain designs require its use, however, it taste awful! Most people dont eat it anyway though. But since I love buttercream frosting, I opted to go with that for my wedding cake.
After hunting around for months for cake pictures online, I came across the design I wanted to go with. I gave this pic to my cake lady..see below.
My INSPIRATION wedding cake pic: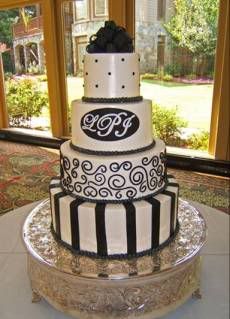 My ACTUAL wedding cake:
Top tier - 6 inches
2 tier - 10 inches
3rd tier - 12 inches
Bottom tier - 16 inches
As you can see, it didnt come out exactly the same but it was pretty similar! And unlike alot of wedding cakes that look pretty on outside, it tasted GREAT!! The top tier was butter cake, second tier was strawberry, the third tier was lemon, and the bottom tier was butter.
*Cake done by Angela's Sweets N Treats Pastries in Chester, VA
GROOMS CAKE
Grooms cakes have been growing in popularity for awhile now. Since everyone usually makes the wedding day all about the bride mostly, its a nice way to honor the groom with something he likes. So for example, if your man likes cars, then you could get him a cake made into the shape of a car or if he has a favorite sports team, you could get a cake made into the team logo.
A friend of mine, DeAndrea, who does GREAT cakes out of Richmond, VA helped me come up with an idea. Since he is apart of a fraternity, Alpha Phi Alpha, she created the Alpha shield and instead of the three heads normally on it, she replaced them with a football (since he loves football), a pen & pad (since he loves to write), and a mike and podium (since he is also a speaker). It turned out GREAT!
Check it out: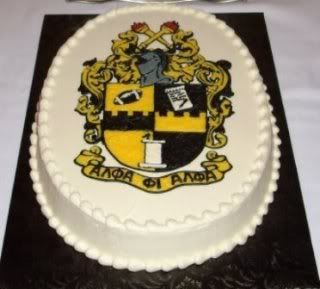 With table decor: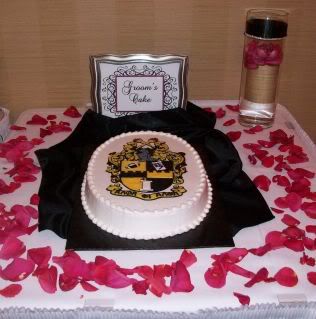 P.S. The grooms cake was placed beside the candy buffet.
If you are in the Richmond, Va area and want more info on DeAndrea and to see some of her great work, check out her website: http://soosweetconfections.shutterfly.com/