Depending on the size of your guest list, wedding linens can really be a big hit to your budget. But there are ways to get around over spending on them. One option is to find a venue that includes linens. The venue I used included white linens but I wanted black satin tablecloths and white chair covers and that was not included.
Here are linens that came with the tables at the hotel we used: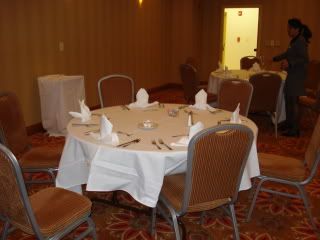 Alot of wedding venues use Chivari Ballroom chairs. So if you luck out with a venue that uses Chivari ballroom chairs, then you wont need chair covers so thats a big savings.
Here is a pic of a Chivari Chair: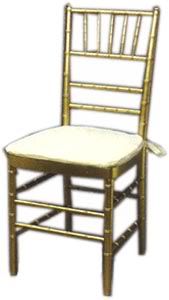 The chairs at the hotel we used didn't offer Chivari chairs and the chairs they had(see above) didn't go with my color scheme so I realized I would definitely need to rent chair covers as well.
I started researching where I would rent them all from. There were two local spots in the area but they wanted $18 to $25 a piece for round satin tablecloths and about $4 to $5 a piece for chair covers. Remember, we were expecting 220 guests so you do the math! Clearly, that was wayyy out the budget we set for linens. So I started looking for rental companies online. After comparing tons of them to each other, I decided to go with
www.beyondelegance.com
for my stretch chair covers and sashes. They only cost $2.75 per cover and $0.25 per sash. For my table linens, I went with
www.qualitychaircovers.com
. They only cost $13.00 per tablecloth!
The only catch with renting linens online is that you have to pay for shipping and you also have to make sure you ship everything back the next business day after wedding. But as long as you have plenty of people to help you out, its not really a major inconvenience and you save alot of money.
The linens arrive a few days before your wedding. You may want to have a steamer or iron on hand to knock some of the creases out. See below:
Black Satin Linens being put on table: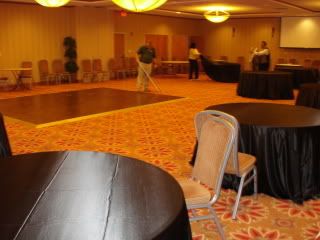 Here is how everything came together with chair covers and tablecloths: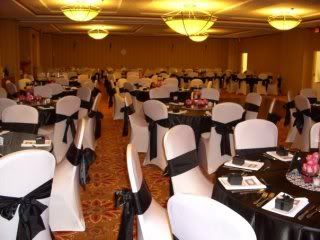 Overall, if you are looking to save some money, renting linens online is typically way cheaper than using your local rental company.