When I started planning my wedding, I had no idea I would spend so much time trying to determine what look I wanted to go for with the reception centerpieces. Ideally, I would have loved massive pink floral centerpieces draped in rhinestones or something elaborate like that... but those cost serious dough!!
So now the dilemma was ...how do I come up with something cost effective that looks elegant and classy but not cheap?? Although, I couldn't have my dream floral arrangements, I still wanted to incorporate flowers in the centerpieces and I knew I wanted to make use of candles too. Sooo in my quest to come up with something... I had quite a few ideas over the course of planning. I took a few pics of some of my ideas....shall we take a look (lol)....
Idea #1
- Ive always loved the way flowers submerged in water look..so I came up with this: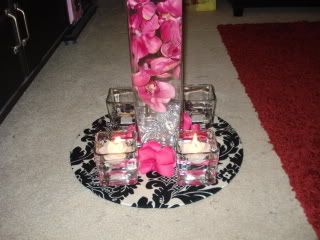 (Purchased tall vase from Michaels and square vases from Dollar Tree)
Idea #2
- The inspiration for this idea came from a picture I saw in a wedding mag: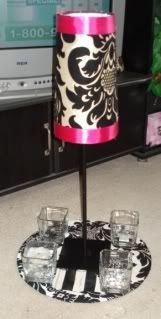 (Purchased lamps from Ikea for $5 and covered them in fabric and ribbon)
Idea #3
- Still the lamp idea but decided to try out contrasting patterns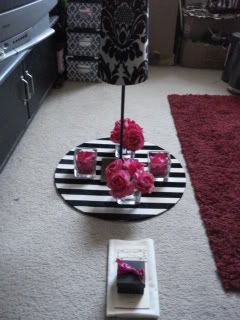 I decided to nix the lamp idea because something was off about it and bases of lamps looked a little cheesy to me.
Idea #4
- This look wasn't far off from what I ended up going with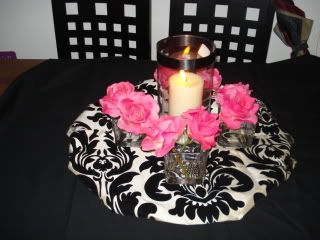 Idea #5
- This was a mockup of the look I decided to go for.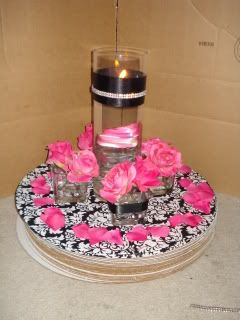 BLOGGER TIP: Try to do mockups of all the ideas you come up with. The last thing you want to do is see how the idea you came up with in your head looks in real life for the first time on your wedding day!
The vases I used were 5X15 and we used floating candles instead of pillar candles. Using floating candles vs pillar candles is definitely a sure way to save money. Floating candles run from $1.00-$2.00 a piece vs pillar candles can run anywhere from $3.00 to $20 each. I knew I didnt want to just use a plain vase for the centerpieces so I decided to get some ribbon and rhinestones and jazz up the vases a little.
All you need for this project are the vases, ribbon, strings of rhinestones and a hot glue gun.
Here are the rhinestones I used:
If you are in the NY area, you can get them from B&Q Trim on 210 38th Street. If not, you can order online at www.shinetrim.com
First step is to cut ribbon out and use glue gun to glue it around each vase.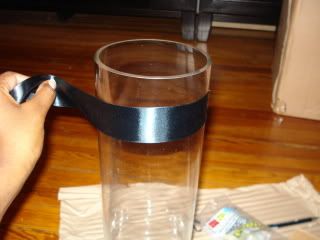 Next, glue rhinestones around ribbon using hot glue gun.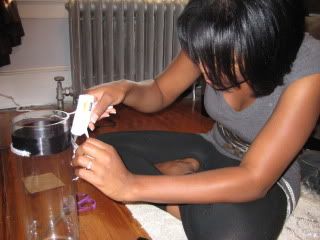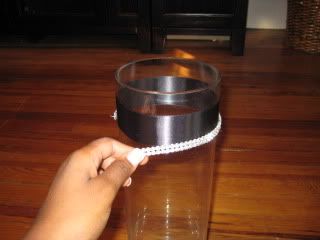 After those were done, it was time to move on to the smaller square vases that were going to hold the roses. I bought them for $1 each at Dollar Tree. FYI, you can buy in bulk online at
www.dollartree.com
. But again, I didnt want them to be bare, so I decided to glue a thin ribbon around each of those too.
Ribbon cut out in pieces: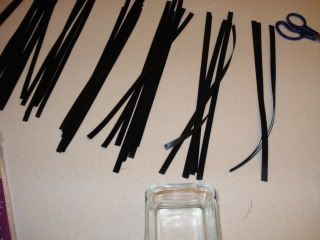 Thank God I had help with these (Thanks Katisha :)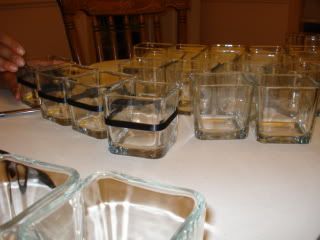 So after all that was done, here is how it turned out at reception:
The centerpieces sat on 20 inch cardboard pizza circles that I covered with damask fabric. I got them for $0.95 each at www.epartypaper.com/Cardboard_Pizza_Circles.html
I also used the rhinestones to decorate vases for head table and we used pillar candles in these for more of an impact
Head Table/Sweetheart Table
P.S. I bought my vases and pillar candles from Jamali Garden in NY. If you aren't in the NY area, check out their website
www.jamaligarden.com