Soooo being a DIYer, you had to know there was no way I was paying a florist to do the flowers for my wedding, right? :)
After doing tons of research on line, I came across zillions of websites selling flowers wholesale. I was a bit nervous at first about relying on an internet based company to get my wedding flowers to me. But after reading about tons of other brides who did it with no issues, I decided to go with www.fiftyflowers.com. They have a GREAT website, the prices are reasonable, and you can search for flowers by color. Not to mention they have great customer service.
I ordered 675 hot pink roses, 350 carnations, and 12,000 rose petals! It came up to about $1200 altogether. Much cheaper than what florist would have charged.
Now I would caution that if you decide to go this route, make sure you have PLENTY of help getting them all together.
So, my flowers arrived the Thursday before the wedding. They suggest you have them arrive the 2 to 3 days before your event. This is how they looked when they were delivered.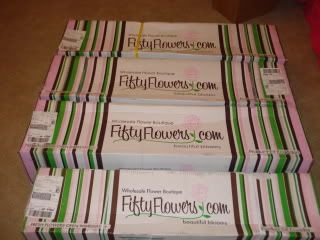 Here's how the roses are packaged: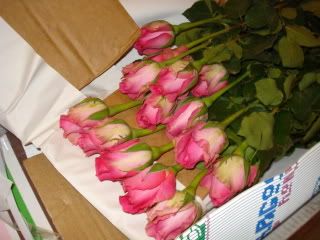 Pic of the rose petals: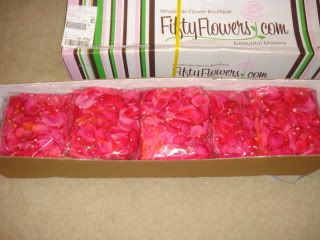 The flowers are shipped overnight to you without water, so they arrive dehydrated. You have to immediately remove them from packaging, cut the bottom of the stems under cold running water, and place in buckets of water. (FYI: You can get painters buckets from Home Depot. I paid $2.34 a piece and got about 11 of them)
Unfortnately, when the flowers arrived to my parents house that Thursday, I was the only one home so I cut all the flowers by myself!! Yes I cut 1000 flowers that morning. It took me about 3 hours. After doing all that, I think I can add florist to my resume! lol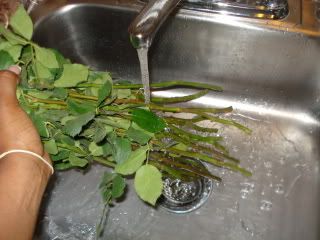 Here is a pic of the flowers in the buckets: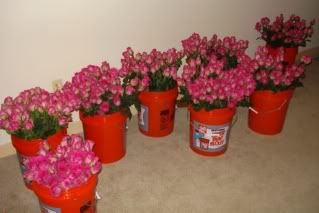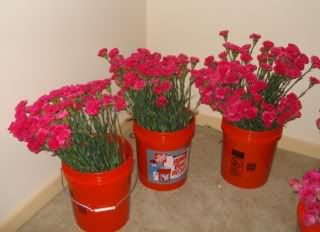 I used the flowers for my bouquet, bridal party bouquets, and table decor at reception. The rose petels were used to line the aisle at church and were sprinkled around reception.
BLOGGER CONFESSION: I cheated a little... I did get a florist to do the guys boutonnieres and mother corsages. I didnt want to try my luck with those! lol
Stay tuned for upcoming posts on how the bouquets and reception decor turned out! :)