So often people want to make updates to their home but have no idea what to do or where to start not to mention the money involved. It can really add up depending on what you are trying to do. But there are tons of relatively inexpensive things to do to update a house!
FYI: As you know my all time favorite place for home goods is none other than Home Goods! I cant say enough about that place! But as with any discount store, its a hit or miss. Sometimes you will see alot you like, other times you wont. Designing on a budget requires a little patience because you can't buy everything at the same time and you have to 'wait' around until you find what you are looking for at a good price. Marshalls, TJ Maxx, and Burlington Coat Factory are good for some inexpensive home items as well.
Here are some of my tips of things you can do to update your home:
Paint, Paint, Paint
Nothing adds more pop to a room than a splash of color! Why live with white walls all over your house when there are soooo many colors of paint to choose from! Now dont get me wrong, painting can be a royal headache...especially if you paint every single room in your house (like we did)...but it really pays off! And if you do it yourself, you will save a ton of money!! But I advise you to buy paint samples (they run around $3.00) and try them on the wall as I did in this example:
Dont rely on the paint swatches only. A lot of times paint looks totally different when its on your wall vs the way it looks on the swatch. The color may dry lighter or darker and in my experience, alot of them dry darker. Once you have chosen a color, make sure you prime the walls before painting so all your 'test' stripes dont show through.
Switch out old, dated light fixtures/ceiling fans
Light fixtures can really date a home. If you want a new look, this is a good place to start. There are tons of modern, inexpensive options to choose from for any room. Check out these inexpensive options I found at Home Depot & Lowes.
$92.31 - Lowes.com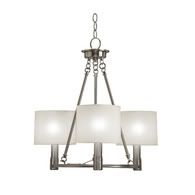 $129 - Home Depot.com
Curtains
For a modern look, hang curtains close to the ceiling or a few inches above your window frame if you have crown molding. The only issue with this is that you will have to purchase curtains long enough to hit the floor. As you can imagine, the longer length the curtains are, the more expensive they will be. But the look is fabulous! It also makes the room appear taller. And you can always find curtains on sale. JC Penny and Bed, Bath and Beyond are great places to check out for curtains. Check out an example below:
Stay tuned for more decorating tips on a budget!! Happy Decorating! :)