MAKING CURTAINS
As you know, I sew but I'm definitely no pro when it comes to certain things. Ive actually always wanted to take a class and learn how to make really nice curtains/drapery and home decor stuff, but I guess I'll just have to add that to my long list of things to do one day. One very easy thing to make are basic curtains. You don't even have to sew them! Fusible bonding tape is the best thing since sliced bread! Check out the curtains I made for our kitchen (I sewed mine). I wanted some kind of funky print in the kitchen and ended up finding this fabric on sale for $4 a yard. And the great thing about making your own curtains is when you get tired of this fabric, you can always simply just make some more to give it a different look! (I guess you could always just buy new curtains too...lol...but its so much more satisfying to look at something you made every time you walk in a room! :)
I did a rush job on these and they still came out pretty cool!
Close Up - A few crooked seams(thats what happens when you rush..lol)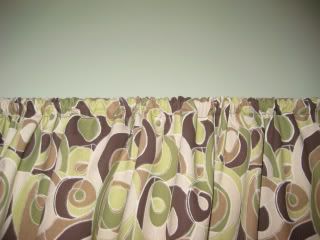 Full View - Cant even see the "imperfections"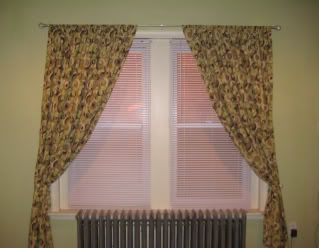 Tip: When making your own curtains, going with a printed fabric 'hides' imperfections in case your seams aren't totally straight. And remember the curtains will be hung up high so with a printed fabric, people wont even notice any mistakes you may make.
Sorry I don't have tutorial on how to make them but there are tons of sites online that teach you how.
SWITCHING OUT DOOR KNOBS
One very easy way to update your home is to switch out old doorknobs with more modern styles. Alot of homes come with typical gold door knobs. When we were updating our living room area, our new accent hardware was now all silver/nickel so there was no way I could let those gold door knobs on the 1/2 bathroom door and closet door disrupt my motif! lol
There are tons of different styles at Home Depot and Lowes. They can range anywhere from $7.00 to $25 or more per set depending on the brand and style. You may not want to switch out all the door knobs in your entire house but if you are going for a certain look in some of your main living areas like the living room or your bedroom, give it a try. Very inexpensive update that can make a big difference! Its all about the details! :)
These are the doorknobs in the living room BEFORE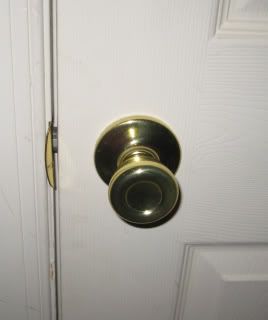 These are the doorknobs we switched to AFTER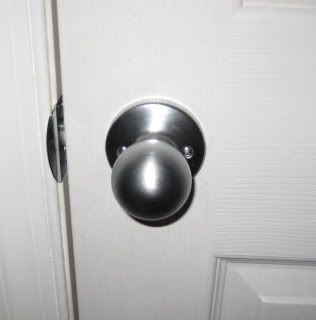 Found these at Lowes for about $12.97
Stay tuned next week for a feature on my living room redesign!